REDUCED WINE
COOKING WITH WINE JUST GOT A LOT EASIER
ViniChef is a pure wine flavor and is characterized by the following features:
Reduces costs, compared to traditional wine
Can replace traditional wine in almost all dishes and not compromise flavour
Can be used whenever a traditional wine is being used
Improves the quality of sauces and is excellent in marinades, barbeque sauces and in desserts
Keeps its quality frozen or after thawed, as well as when vacuum-packed
Background
Wine is one of the most popularly used products as a flavour in cooking. Traditionally wine has to be reduced first whereas ViniChef is already reduced and can, therefore, be used directly.

The idea to produce this product originated in the HORECA (Hotels, Restaurants and Catering) line of business, which uses a large quantity of wine in their cooking. What remains from traditional wine trough cooking reduction is a concentrate, similar to ViniChef. During the past decades the evolution in food preparation has been substantial. In the HORECA line of business, the use of concentrates and pastes is frequent in day to day food preparation in order to simplify and economize the professional work in the kitchen without diminishing quality.

Reduced wine is superior to traditional wine usage in marinades, due to the fact that it contains no alcohol. ViniChef can replace traditional wine in almost all dishes and is an excellent component in creating desserts. It maintains its quality after it has been frozen and thawed, as well as when it is vacuum packed. Furthermore ViniChef produces flavours as a condiment, where one does not traditionally use wine.

ViniChef, white and red wine reduction originates from excellent quality from varietals grape. It is produced according to French and Italian regulations of wine making. The white wine flavour is produced from the grapes Sauvignon Blanc and Uni Blanc. The red wine flavour is produced from the grapes, Cabernet Sauvignon, Carignan, Grenache and Syrah. The wine is pasteurized, which means it has a long shelf life and that it has an excellent acidity and color. ViniChef reduced wine has brought new conceptual thinking to the market of food preparation for professional chefs and home consumers.

Due to the financial gains and gastronomic benefits, ViniChef reduced wine is a highly recommended product for the HORECA line of business and professionals, as well as for the consumer market.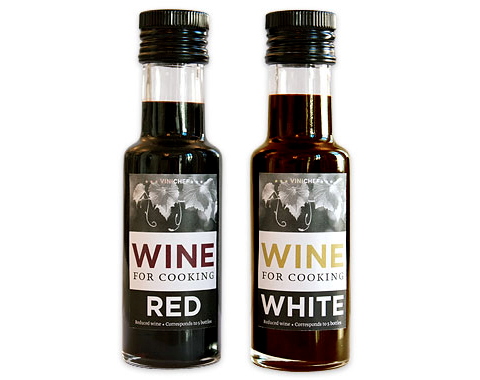 Product info:
General
Is reduced 30 times
A bottle of 125 ml corresponds to 5 bottles of 75 cl wine
Contains no alcohol
Contains no preservatives
Is fat, cholesterol and sodium free
Is GMO free (Genetically Modified Organism)
Is pasteurized with a shelf life minimum one year
HORECA
Allows time and energy savings in the kitchen
Minimizes the logistic problems
Simplifies storing and transportation
Cannot be used as a substitute for alcohol
Opens up a new extensive market potential (schools, military- personnel canteens, catering, retirement homes
Storage and handling in temperature 4–8 °C / 39–46 °F
Allergen Information
Contains Sulphur dioxide and sulphites: <250 ppm as SO2
The products, Red and White, is in full compliance with the food directive EC/178/2002 with later amendments and with the EU regulation 1334/2008 with later amendments on flavourings and certain food ingredients with flavouring properties. The products are intended for use in food.
© Copyright 2019 ViniChef